Introducing our very first cover star, and 1994 alumni, JACK COULTER.
The wonderfully talented Belfast based artist has graced the world with his abstract expressionist pieces as well as his most recent collection the 'Iconoclast series' of which has been wildly successful, with those such as Cara Delevingne, Matty Healy, Mumford & Sons, Jack Garratt and Wolf Alice praising and purchasing his work.
Where words fail, music literally speaks in Coulter's case as he has a rare neurological condition known as synesthesia. More specifically, Coulter possess chromesthesia, which is characterised by vivid, iridescent colour response to sound, causing him to 'hear' colour. Coulter's art allows the viewer to delve into his electrifying, exhilarating and disconcerting world of colour and the passionate yet humble stories surrounding his artwork are no less boring. There are intricacies within Coulter's work that demand to be appreciated, as if his talent wasn't enough.
Coulter already has an exciting array of accolades and achievements under his belt, from musicians such as The Rolling Stones owning his work, to being the youngest artist at 21 years old to have a painting bought for the Art's Council Collection. Coulter's work has been bought by Capitol Records on Fifth Avenue, New York City. As well as collaborating with Glastonbury to create a visual canvas of the entire festival. Coulter's large scale painting titled 'rosegold' is owned by The Art Of Elysium in Los Angeles, where it is on show alongside artists such as KAWS, OBEY and Oliver Jeffers. Already, 2018 is set to be another astoundingly successful year for Coulter. His upcoming projects and collaborations with the London Orchestra, Ben Lovett of Mumford and Sons and Dulwich Gallery will all be revealed in an exclusive article granted to NinetyFour magazine.
'rosegold' – Jack Coulter
"rosegold is a piece very close to my heart, there is a segment of gold within the middle of the painting with real dried rose petals and buds, then a singular real seeped rose emulsified in gold within the centre, which I had dried previously in preparation for the piece."
Now that formal introductions are out of the way, be sure to get your copy of NinetyFour magazine, released for purchase online in Mid-March, to further discover the extent of Coulter's talent and the wonderful stories and feelings that go along with them. We will discuss and feature his work, new & old, as well as his upcoming projects for 2018!
If you can't wait until then here's a couple of questions we asked to further understand his influences, creations and to learn a little more about his new 'Iconoclast series'…
You've spoken in past interviews about who inspires or influences your work, to which you mentioned your Aunt Christine, who also had synesthesia, and Kurt Cobain among others. Are there anymore influences that inspired your newest pieces/collection as a whole?
"They actually came from my own notebooks. I've been doing them ever since I was a kid, my obsessional love for 1940s abstract expressionism, decaying within the isolation of pop culture. I always tried to mix each area in my earliest work. As they're my two greatest influences. My art books from school when I was 11 are filled with abstractions, Pollock, River Phoenix, Anne Sexton, Michael Jackson, Basquiat, Warhol, Cobain. It's so strange looking at them, my art notebooks from school are now like 12 years old since then." (Full answer available in printed issue).
'Pollock' – Jack Coulter, Iconoclast Series. (Original photograph by Arnold Newman.)
'Cobain' – Jack Coulter, Iconoclast Series. (Original photograph by Hugo Dixon.)
What would you say was your favourite piece in your collection and why?
"In my actual paintings, it's a piece titled 'conscivit', it's Latin for suicide. This piece personally epitomises my artistry. I desire the beautiful exterior of my paintings to be paralleled with an elusively harrowing interior. My intention is to expose the connotation of light within darkness in every sense. I want my paintings to provoke an introspective experience for the viewer, to delve into one's interior rather than one's exterior."
'conscivit' – Jack Coulter
"For my new series, it's the River Phoenix and Basquiat iconoclast – they're two people I truly adore. My iconoclast circle is a small original painting in every single one I do, either over the subject's eye, or placed somewhere with significant presence. Every single detail you see in my iconoclasts is hand-done. I distress the monochrome image with knives, as I want the photograph to represent a vintage vinyl sleeve you would find in a charity store. I don't want the original photograph or my circle painting to look distant, I want them to be in harmony. Not taking anything away visually from each stand-alone piece of art in itself."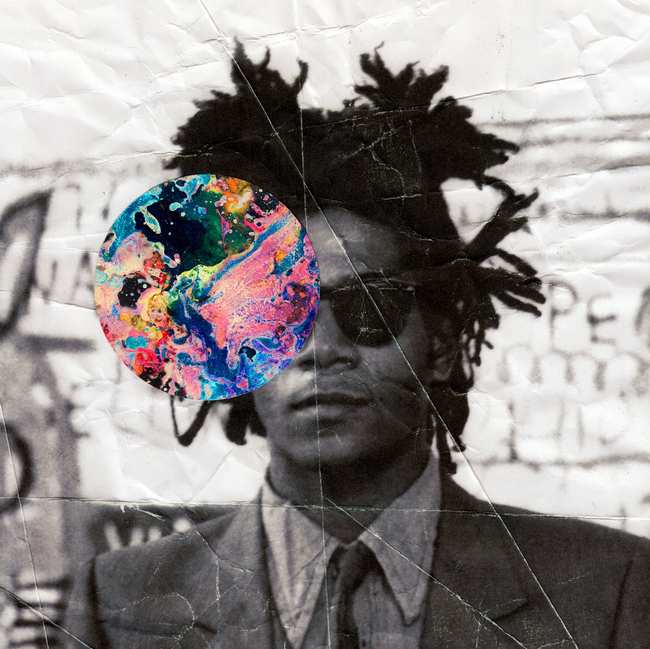 'Basquiat' – Jack Coulter, Iconoclast Series. (Original photograph by Beth Phillips.)
"The iconoclast circle resides over the eye, which entails a small original painting of mine on every single one I cut by hand. The iconoclast circles are individually painted, specifically depicting my synesthetic response to the subject's artistry. The iconoclast figures are personal individuals I adore, who shattered normality.
My synesthesia is very erratic, even for the pieces that aren't musicians, I've stated before that my senses are even stimulated by a piece of art, poetry or film. If I feel emotionally stimulated within a specific moment, setting, situation, like staring at the sky, reading poetry or experiencing a sudden infatuation inside a beautiful moment, my sight literally burns in fluorescence."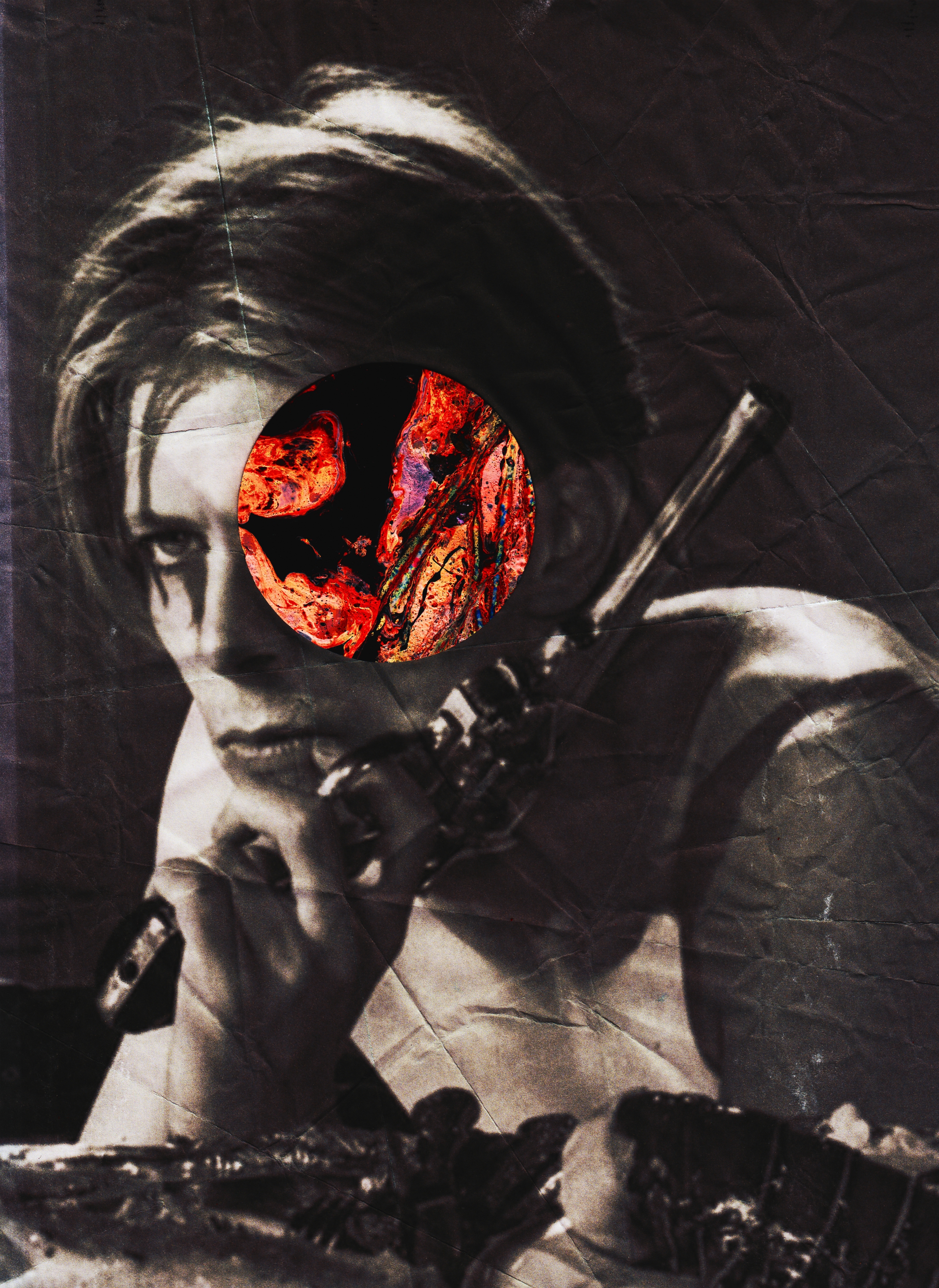 'Bowie' – Jack Coulter, Iconoclast Series. (Original film photography from 'The Man Who Fell to Earth'.)
"These new works are linked to my past pieces with the circle, everything I create always has inklings of my personal past or future, be that in artistry or everyday life. I'm not abandoning painting, I just did it to death. My original paintings will come back, yet in a vastly different way. I'll always be a painter at heart, that will never change." (Full answer available in printed issue).
For us, Jack embodies what NinetyFour Magazine stands for; Fearless ambition to pursue an art wholeheartedly with meaning and integrity, making him the perfect cover star to launch our first issue. We hope you agree.
Follow Jack Coulter:
Instagram – @jackbcoulter
Official Website – www.jackcoulter.com